Mil-Spec Motorsport Wiring Harness
Whether you already have a wiring harness designed, or require us to design and build your wiring harness, we ensure you get the highest quality harness, delivered on-time at a competitive price.
Designed For Your Application
Using experience gathered from designing motorsport wiring harnesses for formulae all over the globe for two decades, we ensure that you get the harness you actually require, advising on all aspects of the harness throughout the design stage.
Built To The Highest Quality
The quality of the wiring harness is critical to ensuring your car, bike, aeroplane, boat or UAV continues to function as expected. All our wiring harnesses have quality built in from the outset, from the design phase, through production and test & inspection.
Service Loops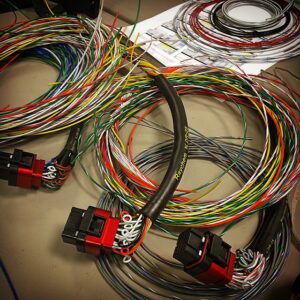 "Service Loops" provide strain relief to the wire termination and to provide a surplus length for repair purposes.
Mil-Spec Connectors
Specifically designed for motorsport industry, Lightweight, aluminum and Heat Resistant.
Splicing and Shrink Tubing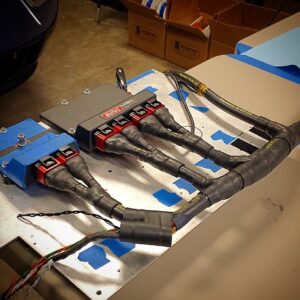 Environmentally seals the wires and connectors and provides a protective layer against abrasion.